ILIO NEMA WOMAN MARISA PURCELL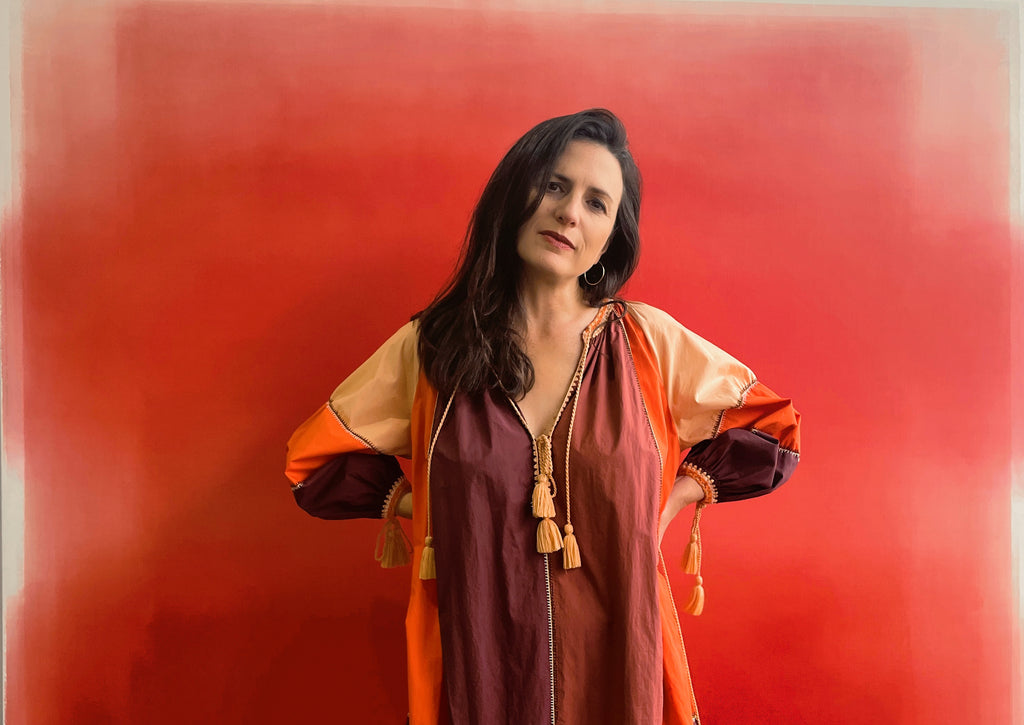 Introducing ILIO NEMA Woman: MARISA PURCELL
Painter Marisa Purcell is a muse of ours. As an artist she manifest herself through colours vibrating on large linen canvases that she sources carefully. Her paintings are spiritual, energetic, luminous and immersive. A free-spirited woman she is always curious and loves to create with her hands. An inspirational woman that loves to uplift other female creators, she is the perfect ILIO NEMA woman.
We asked Marisa  a few questions...
1) What is your favourite piece of clothing you own? Where and how did you acquire it?
A friend of mine imports the most beautiful handwoven garments, I bought a top from her years ago and I still wear it all the time.
2) How did you started/where you today?
I always made art, even when I was little but I never considered it could be a career. So I went to uni and studied to be an art teacher instead of doing the course I really wanted to do. After a few years of teaching when I felt like I always wanted to be somewhere else, I made the leap and went back to uni to study. Again, I didn't study art - but a Masters of Art Administration. I hatched a plan so I could be qualified to work in museums part time and I could start the process of getting a studio and making art.
For years I worked at the Art Gallery of NSW and the Museum of Contemporary Art in public programs. This was such a great education for me - being exposed to historical and contemporary art, from Australia and overseas taught me so much, both in terms of the making of art, and conceptually.  During these years of part time work, I exhibited my work and travelled a lot.
I lived in Zurich and Paris for a couple of years, working in studios and exhibiting regularly. When I came back to Australia I did a Masters of Visual Arts at Sydney University which allowed me to work closely with Lindy Lee, a great mentor! Getting where I am today has really been a very long and slow process of persistence and hard work, nothing has happened overnight!
3. We have a fond relationship with colours and always manipulates them into stripes... we see the way you express yourself with colours as well, what is your creative process and goal?
My creative process is so intuitive its really hard to describe. I love colour - I love how it sometimes feels like it saturates you and can catch the changing light around you.  I don't really have a method with how I choose my colours, I just use what I love, and what I think works together. 
4. ILIO is the Greek word for sun, the golden thread or light that drives our inner creative process. We feel like your paintings vibrate and glow, how do you achieve this result?
I use very transparent layers of paint.  I dilute paint, with acrylic medium, making the colours very transparent. Then the process of layering colour starts - and each layer slightly shifts in tone, resulting in the glowing affect.  I'm really fascinated by how we perceive colour and more broadly how perception functions in the brain. What we think we see is usually just what our conditioning has trained us to see. I like the idea that certain colour combinations can play tricks on us, contributing to an illusion of space and depth in the works.
5. What do you like most about working with your hands?
I like that what I do is so uncertain. That I can never predict what a painting will be - they really do have a life of their own.  I love that I get to make stuff that feels like a direct conduit to a collective consciousness.
6. What does sustainability means to you?
Sustainability for me, means to live within our means, to respect resources and to minimise waste.